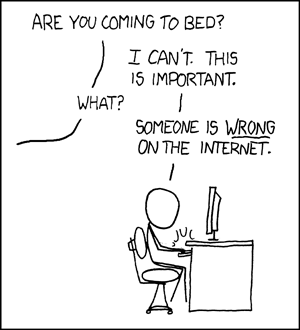 Last night, I informed someone who was very emotionally involved in a certain wank that a claim they made was factually wrong.
Thankfully, they did not flame me, not yet. Someone else did. I think. I didn't see for sure, because I saw the wall of text through squinting eyes and closed the email. I knew, I knew, I knew they were going to rationalize it away and get mad at me, and I did it anyway, because I couldn't bear to let a falsehood abide.
I really should stop doing that.